The Stock Market can be more challenging when it comes to buying and selling shares. Whenever a trader or investors start their journey, they often ask one common question: Can I sell delivery shares on same day? If you are reading this post, then you are also willing to know about the same. So, whether you are new to the share market or have gained some knowledge in dealing with shares. You all need to read this important post to make buying and selling delivery shares more manageable and effective.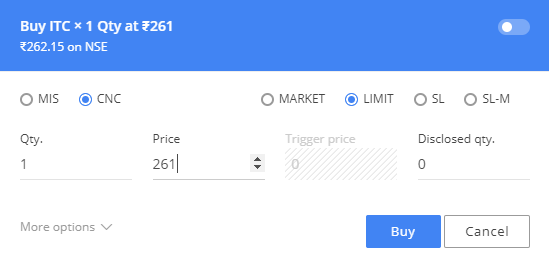 Can I Sell Delivery Shares On Same Day?
In the share market, you can sell delivery shares on the same day without any issue. When you get a good deal for your delivery shares, you can sell your shares without facing any transaction issues. However, the trading for delivery shares will be considered as Intraday trading instead of delivery. It would be best to consider whether the trade will occur in CNC or MIS order type because it will affect your trading. Although If you have Trade to Trade Segment stocks, you can not do intraday selling because it is not allowed with Trade to Trade Segment Stocks. These days most trading applications offer a convert option if you want to sell your delivery shares. The charges remain almost similar, and even after your trading process gets finished, it does not incur extra costs in your pocket.
Let's understand whether you can sell delivery shares on the same day or not with an example.
Example Of Selling Out Delivery Shares
Let's assume a few days ago you purchased the shares of TATA on 3-08-2021 for the delivery of that share. You can sell these delivery shares in two situations; let's discuss these.
Case 1: You Have Got Bad News About Delivery Shares Of Tata
If you bought these shares and heard about any bad news that can decrease the prices of shares in that case, you may look for the buyer of that delivery shares to sell them. By doing this, you can have a minor look or a bit of profit, but it can prevent the massive loss you can face in the future. So, to sell your delivery shares on the same day, you can press the convert position.
Case 2: Selling Delivery Shares For Profit Bookings
Many times, you can observe that the prices of delivery shares can hit the target that was expected by your side. In that case, you can decide to sell the share to get the desired profit and stay away from taxes. The reasons being, if you keep the delivery shares, then you will have to pay more tax than the intraday. So, here you can click on exit, and you are ready to earn profit and save tax that can occur on delivery.
Are There Any Charges To Sell Delivery Shares On The Same Day?
When you sell your delivery shares on the same day, you will have to pay some charges. But it does not cost extra because you will have to bear only intraday trading charges. After all, your trading will be considered intraday trading. In most cases, standard trading apps like Zerodha, Upstox, and others charge around Rs20. However, the charges can be less or more depending upon various factors; therefore, you should also check out the transaction charges.
Does Selling The Delivery Shares Affect Buying Average?
If you are selling shares that are part of your portfolio in intraday trading. Then it will not affect your buying average and remain the same as earlier. Also, the shares do not move physically into or out from the demat account you created. Besides this, intraday trading is considered a different transaction in your portfolio, so it does not affect your buying average.
Example:
Suppose you have ten shares of TATA having Rs1000 worth for each share you bought years ago, and now the prices of these shares have risen and increased to Rs1500. To see this trend, you buy ten more shares of TATA costing Rs1500 each and sell the same after a few times. This transaction will be considered intraday trading, and it will not impact your buying average. If it was Rs1500 earlier than now also it will remain the same without any negative impact.
Is There Any Tax For Selling Delivery Shares On Same Day?
As per the income tax rule, after calculating the tax impact of trades, the buy average comes into use. Also, the trade with no in or out result is considered intraday trading. And these transactions are deemed speculative in nature. Therefore you need to classify this transaction individually. However, delivery trades used for capital gains should not be mixed with intraday transactions.
When Should You Sell Delivery Shares On The Same Day?
We have already discussed this, but you should also know that it takes a minimum of two days to get transferred to your Demat account whenever you buy the shares. Therefore, if you think you have bought irrelevant shares, then you can sell these when you think there will be bad news. You can also sell the delivery shares if you want to sell some par of shares or you have got the wrong shares.
Conclusion
So, in this post, we learned whether you could sell delivery shares on the same day or not. We also discussed some other terms as well with examples. However, it is one of the rarest cases that you can face and can sometimes avoid losses in the future. I hope now you have a complete idea about delivery shares and will be able to use this technique in your trading journey. So, if you also have your friend who wants to know about delivery shares or is willing to know more about the share market, then you can share this post with them as well. Moreover, you can also feel free to share your experience if you have already faced this type of situation in your trading journey.