The stock market enthusiasts have been searching for the most potent beginner books for them! So, if you are also passionate about learning investment, you should have immense knowledge about trading.
Do you want to be a shrewd investor who is well-versed about the market's wax and wane strategy? Indian stock market consists of a vast scheme, and you need to educate yourself for intelligent investing!
How do you start investing in the stock market? It is the most obvious question which should strike your mind. You simply need to be knowledgeable to become a stock market investor! Also, it's not necessary to blindly follow others to be competitive. However, innumerable books are available on the Indian stock market.
So, you must be wary of picking that specific one, which fulfills your needs. Have you started fostering personal finance? Let's check out the top books for stock market beginners.
6 Best Books for Stock Market Beginners in India
If you are a novice to the stock market, you can quickly boost your knowledge with these top-rated books, mentioned below.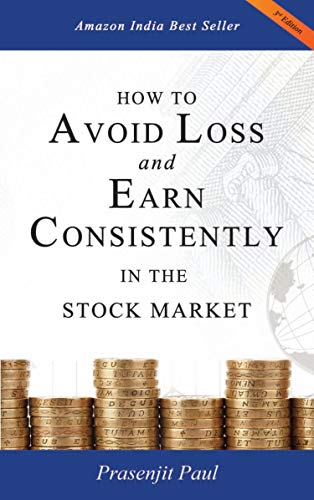 Eminent stock market investor Prasenjit Paul writes this best beginner guide. In this book, a newbie trader will learn how to avoid loss in the stock market. It is the most crucial issue with the traders as they possess a few details about the Indian share market.
Therefore, they took the wrong decision and lost a whopping amount of money. This book has gently illustrated that the Indian Stock market is pretty straightforward, and all you need to learn is the safest investment methods.
Its first step includes choosing winning stocks, where it has shown how to opt for top-rated stocks for you to obtain a massive return in the future. Also, you may hone your knowledge with this beginner's guide by implementing the do's and don'ts for avoiding losses in the stock market.
Do you want to know the nitty-gritty of stock investment in India? "Let's Talk Money" will be an outstanding beginner book on personal finance. It usually focuses on the Indian stock market, which every novice should read.
Such an extraordinary stock market beginner's book covers salary management to retirement savings, to almost everything. This is the most famous book on personal finance, that every Indian showcase their perturbations about it. Moreover, this book also portrayed that illiteracy leads to the worst investment choices. Are you one of those peers trying to save a lot of money? Sorry, this book doesn't match your requirement! Instead, it offers excellent advice for protected investment in order to fulfill your objectives.
Why choose?
The higher time you stay in the stock market, the superior your investment will be.
Investing in a commodity is beneficial for meeting financial goals.
A slew of stock market books is available to gain superior knowledge about Indian equity investing and the stock market for beginners. So, this beginner book will satisfy the needs of those who want to make a prudent investment.
The renowned investor, broker, and founder of PPFAS, Mr. Parag Parikh, is the author of this unrivaled book. He has diligently articulated various perspectives about the process of stock investment, broker sentiment, and many more.
Such a fantastic investing book for beginners possesses the significant benefit of being written in easy-to-read language, which is highly understandable by the readers. The novice stock investors often make serious blunders while investing.
Therefore, "Stocks to Riches" will provide you top tips and tricks to avoid such blunders. Also, it instructs them on how to rectify the mistakes and opt for the correct stock as per your requirements.
Do you want to incorporate effective strategies in your portfolio? "The Warren Buffet Way" by Robert G. Hagstrom teaches you some crucial ways of stock investment in Warren style. So, after thoroughly reading this book, you can profoundly understand the trading matters.
Moreover, Hagstrom has diligently covered the nooks and crannies of Warren, which he followed while investing. This beginner book consists of unrivaled stories of Buffet, which will inspire you to take seamless investment decisions on the victorious grounds.
However, one of the most amazing things to notice is that the author hasn't utilized any ambiguous statements throughout this beginner's book. So, the share market beginners can be aided by this book due to the incorporation of precise details.
The "Common Stocks And Uncommon Profits" is one of the most excellently written stock market investment beginners' books. Do you want yourself to be updated about stock investment? Philip A. Fisher crafted beginner's choice will help you in knowing the Indian stock market. However, such a complete book consist of precious details about the share market and stocks.
Also, it gives you immense strategies for developing your capital. This book has three inevitable chapters, including what to buy, where to purchase, and when to sell. So, it's easily split into top-notch three parts. The very first part of this book includes 15 points to look into the general stocks. The second one comprises significant dimensions of conventional investments.
Lastly, the third part consists of supreme knowledge for identifying the market conditions and creating an investment philosophy.
It is one of the best books for stock market beginners in India, written by Joel Greenblatt, which incorporates tricky points for overpowering the stock market's fear. So, after following the magical points mentioned in this book, you can make most of the money. The leading investor and writer have recommended a few unique formulas based on Return on Capital and Earnings Yield.
After following such crucial investment techniques of the share market, beginners can even make lump-sum amounts at bargained rates. Do you want to achieve some fantastic results? You should read this book once! As the name implies, the book only contains 176 pages, showcasing the best strategies.
Conclusion
So, this article covers all the top books for stock market beginners in India to know more about stock investment, equity market, and more! After picking one or two of the aforementioned books from the list of the best books for stock market beginners in India, you can become a successful trader and stock market professional. It triggers your awareness and eliminates doubts, that you might have about the share market. To conclude, pick your investment precisely, seize the massive scope, and load up the truck!