KreditBee is one of the leading digital lending websites that offer short-term eligible loans to applicants through their mobile apps. Their services are available across several cities. You will find two kinds of short-term loans provided by KreditBee and they are Personal Loans for Employed/Salaried applicants and Flexi Personal Loans. 
KreditBee also offers instant access to their loan funds within just 15 minutes of its approval time. These loans are collateral free and thus, customers don't need to worry about offering a guarantee or any asset to secure their instant loan as is the case with several banks and NBFCs.
KreditBee provides multiple products in their personal loan category and the most prevalent are:
Flexi Personal Loans
Loans for Salaried Applicant.
How Does KreditBee Work?
KreditBee provides personal loans to its customers. Each of them offers different options for financing & loan tenures. It is a mobile app product, which means one can apply only for the loan on their platform after downloading their app from the Google Store. Their app needs a proper registration process through Google or Facebook that KreditBee will verify after which you may apply for the type of loan you need.
Note you won't be eligible for a high amount of loan initially. You need to apply for the smaller loans & repay them on time, which will increase your credit limit gradually, thus making you qualified for the higher loan sum.
Features of KreditBee 
Let us check out some KreditBee key features that make this stand out from the rest:
Flexible Loan: Borrowers can select loan amounts that can range from some thousand rupees to a specified limit, which depends on their eligibility criteria and creditworthiness.
Affordable Interest Rates: KreditBee offers loans at a very competitive rate, thus ensuring borrowers have access to reasonable credit. 
Instant Loans Process: KreditBee has an instant loan process for their eligible borrowers. Their loan application procedure is fast, and funds can be disbursed to the borrower's bank account quickly.
No Collateral Needed: KreditBee provides unsecured loans, which means borrowers do not have to provide any kind of security or collateral to avail of their loan.
Paperless Procedure: The whole loan application procedure is paperless, thus eliminating need for the physical documentation. Borrowers will complete their online application process through the KreditBee website or app.
Documents to Needed 
The best thing about this app is it needs very less documents. Its process is online and trouble-free, you just have to upload scanned pictures of your documents.
Documents required to start your loan process from the KreditBee app are:
Address proof: You need a driving license, an aadhaar card, etc.
Id proof: Aadhaar card, voter ID card, passport, etc.
Pan card: Pan card is required for KYC. Note: Without KYC registration, you cannot apply for a loan. 
Eligibility Criteria
To avail KreditBee personal loan, given are the eligibility criteria:
You should be more than 21 years of age
You need to be a citizen of India
Your Aadhaar Card needs to be linked
Your monthly income must be INR 10,000
Steps to Apply For a Kreditbee Instant Loan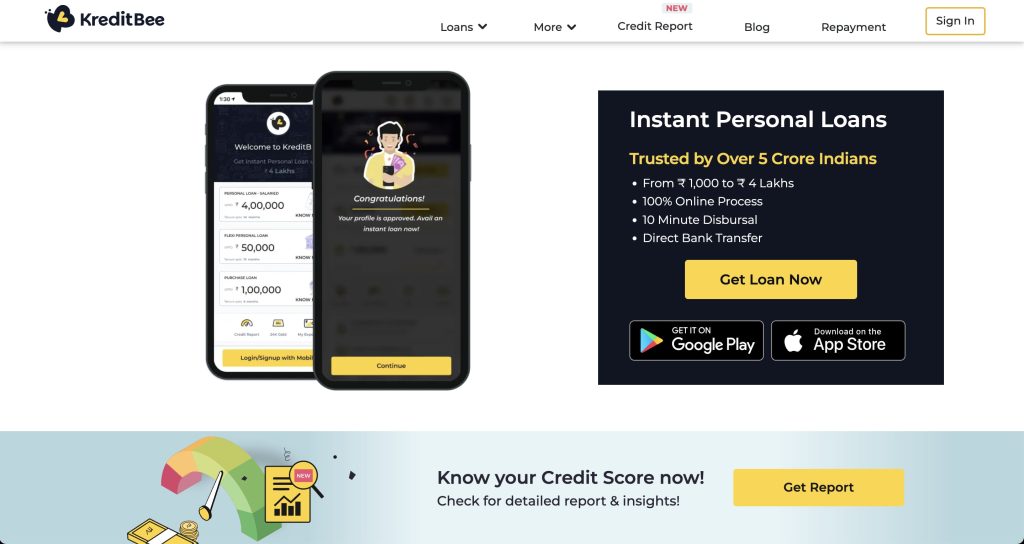 Any Indian person who is above 21 years and has monthly or salaried income can apply for the Personal Loan at the KreditBee Online Platform. This platform is fast, easy, and hassle-free. Just follow the given steps:
1. From the Google Play Store or Apple App Store, install the app.
2. Register with your Google Profile or Facebook.
3. Fill in the basic details and check if you are eligible to avail KreditBee personal loan. The process takes around 3 to 5 minutes.
4. On eligibility confirmation, you will have to upload your Know Your Customer (KYC) documents.
5. When the KYC is successfully verified, you may apply for a KreditBee loan.
6. Amount will get disbursed in your bank account within 15 minutes.
Interest Rates & Fees
While considering a loan from KreditBee, you must understand the rates of interest and fees linked with borrowing. Here is the breakdown of what an applicant can expect:
Interest Rates
Interest rates for KreditBee personal loans range between 18% and 29.95%, it depends upon different factors like tenure, loan amount, income, and credit score.
Processing charges
For KreditBee personal loans, the website charges processing fees based on your loan amount and type. Here is the breakdown of processing fees:
For Personal Loans: INR 85 to INR 1,250
Personal Loans for Employed (loan amount from INR 10,000 to 3 lakhs): INR 500 to 6% of the loan amount
For E-Voucher Loan or Online Purchase Loan: Around 5% of your total loan amount
Besides, KreditBee charges some convenience fees for various payment methods, which include net banking, bank transfer, UPI, debit card, and wallet and prepaid.
Conclusion
To conclude, KreditBee loans are quite a helpful choice for candidates who want access to immediate funds. If you're considering KreditBee personal loan, it is always better to compare the terms and rates with multiple lenders and make the right choice.
Additionally, it is very important to have a proper repayment plan to avoid any kind of penalties and negative impact on the credit score.
So, KreditBee will be the best choice for candidates who want personal loans. Suppose you have more questions, check out a few most asked FAQs or check their website or get in touch with their customer care support for further assistance.
FAQs
Does KreditBee charge a penalty for late payments on your loan?
Yes, there're some additional costs involved. When making payments online against the loan, a person has to pay the convenience charges. Besides, late penalty charges are levied on all types of loans.
How much one can borrow from Kreditbee?
A candidate can borrow over INR 3 lakhs for loans and over INR 1 lakhs for online purchase & e-voucher loans.
What happens if I default on my loan?
When you default, there are some penalty charges to be levied upon your loan. Your credit rank as a defaulter may get forwarded to various credit bureaus. Besides, you won't be qualified to get a loan from KreditBee even with the higher financing margin.
How fast can one receive a loan from Kreditbee?
After your application gets approved, a candidate can expect funds within 15 min from KreditBee.