Paytm Money is also known as Paytm Money Ltd, a Bengaluru-based Indian startup that provides financial services. It was established in 2017 as a discount brokerage firm and its complete subsidiary company of One97 Communications Ltd, the owner of India's most used financial services app, Paytm. Paytm is approved by the Reserve Bank of India and allowed to provide its payment transfer services.
If we talk about Paytm Money, it's the discount brokerage stock trading platform registered with SEBI and allows investors and traders to participate in the Indian stock market. The platform also provides investment advisory services. India's leading discount brokerage firm has official membership of CDSL, NSE, and BSE. Moreover, it has also started providing direct mutual fund investment facilities to its users.
By the end of 2020, this trading platform also introduced an investment facility for IPOs, equity trading, ETFs, and digital golds. Now traders are also allowed to trade in F&O through this discount broker. The brokerage charges of Paytm Money are affordable and offer a free trading facility on equity delivery trades and direct mutual fund investment. Learn more about this leading discount brokerage firm and its brokerage charges.
Paytm Money Brokerage Charges
This discount brokerage firm uses a fixed brokerage model where it charges Rs 15 or 0.05% per day trade executed by users. However, the maximum brokerage per trade can reach up to Rs 15.
It charges Rs 15 or 0.05 of revenue, whichever is less, on equity intraday, equity delivery, and equity futures.
This platform has a flat fee of Rs 15 per order on equity options.
It charges Rs 300 yearly for annual platform charges.
There is Rs 300 per request and Rs 300 per courier for physical statements and documents.
Although, it does not charge any fee if the trader uses the UPI payment system.
For auto square-off, it charges Rs 20 per square-off.
If the trader makes any delay in payment, the platform puts 1.5% of the payment amount as a penalty.
Trading and Demat account opening are free on this trading platform.
It also does not charge any fee for Demat account maintenance.
Paytm Money Stock Trading Platforms
Paytm has provided its customers with a mobile app and a website platform. The trader can choose any based on their preferences and participate in trading activities. Below we have shared a brief insight into these stock trading platforms provided by Paytm.
Paytm Money Mobile App
Paytm Money mobile app is the official app of this discount brokerage firm in India. This mobile app is available for both Android and iOS mobile users. It allows users to trade in the stock market from anywhere in a very convenient way. However, users need to pay a Rs 300 annual platform fee to use this stock trading app. This safe and secure trading app includes stock trading features like market insights, a watchlist, SIP investing, advanced charts, and more.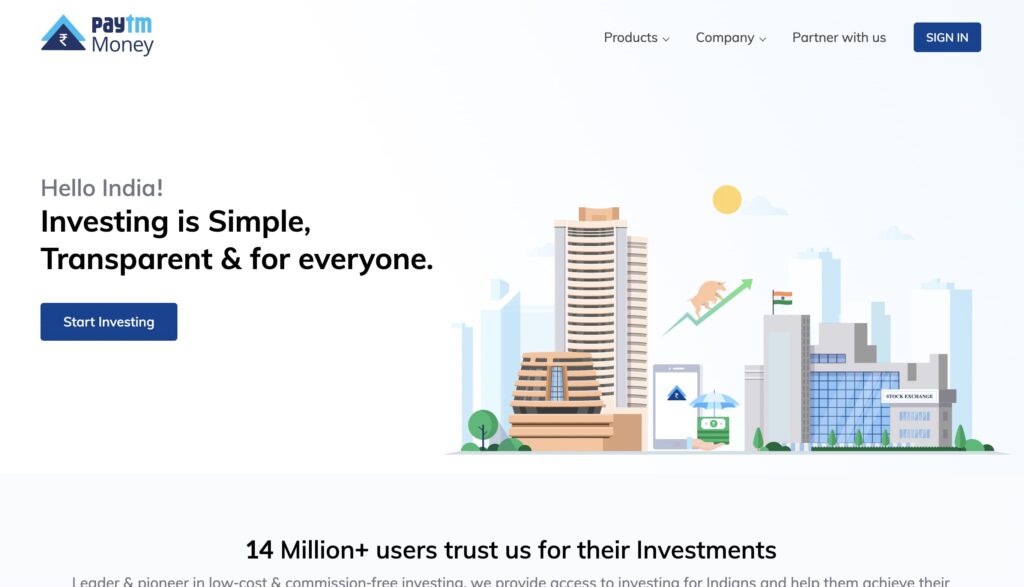 Paytm Money Website
Users of Paytm Money also have the option to use its web-based stock trading platform. It allows registered users to explore its features and use various features to participate in trading activities. You can invest in mutual funds, NPS, and digital gold through its website. Moreover, you can trade in delivery trades and access advanced orders.
How to Open Demat Account in Paytm Money?
Creating a demand account with Paytm Money is pretty easy as the entire process happens online, and it takes a few minutes to fill out the form. Below are some steps that you can follow to open your account with this leading discount broker and start trading in the stock market.
Install Paytm Money mobile app on your Android or iOS mobile.
Open the app and enter your mobile number to register yourself.
Verify with the mobile OTP to proceed with the next steps.
It will ask you to fill in details in your digital KYC form displayed on a mobile screen.
Fill out the form and provide PAN, DOB, and other details.
Upload documents like Aadhaar Card or other required proof.
Add bank details and make sure all details are filled up correctly.
After entering all the details, click on the e-sign now button.
It will verify your form and open your Demat account with this discount broker.
Advantages of Paytm Money
There are many advantages of using Paytm Money for stock trading activities. Below are some major advantages of the Paytm Money stock trading platform.
It's a very easy-to-use and advanced trading platform for beginner and experienced traders.
The Paytm Money brokerage charges are pretty affordable and low.
The user account gets opened quickly, and the entire process is online.
Its direct mutual fund platform may help you earn about a 1% higher return.
Paytm Money offers investment facilities into digital gold and NPS.
Its advisory service is quite user-friendly.
Users can use brackets and cover orders when trading through this platform.
Disadvantages of Paytm Money
There are some disadvantages to using Paytm Money for stock trading. Below we have mentioned some you must know before using this stock trading platform.
Paytm Money does not provide any NRI account.
It does not have any advanced order features like GTC and BO.
Users can not trade in currency and commodities as it's not available
You don't get any margin facility with this stockbroker.
This discount broker does not provide a margin against shares.
It does not have branch support like other discount and full-service providers.
It charges on equity delivery and is not free like other brokerage platforms.
Conclusion
Paytm Money is India's leading discount brokerage firm providing stock trading and investing facilities at the lowest stock brokerage fee. If you are looking for a reliable stock broker willing to participate in intraday trades and invest in mutual fund schemes or NPS, this stock trading platform can be the right fit. Its stock brokerage charges are pretty low, and it also does not have any account opening fee to create and set up the account. However, you may have to pay a yearly platform fee of Rs 300. Overall, Paytm Money is suitable for beginner-level traders willing to find an affordable solution to participate in the Indian stock market and profit from their trades.